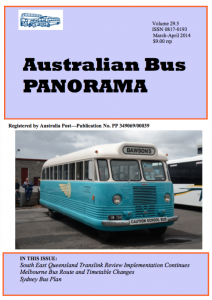 One of the main activities underpinning the Bus and Coach Society of Victoria is the publication of our bi-monthly 60-page colour magazine, Australian Bus Panorama (or A.B.P for short), covering the latest happenings in the industry, feature articles and plenty of photos.
Just before Christmas each year we also publish our famous annual "Special" which includes longer feature articles alongside numerous photos from our archives.
This magazine has been produced for over three decades now, succeeding various publications from our early years, including BCSV News Sheet, Fleet Line and Australian Bus Heritage.
Content
Content in a typical edition of Australian Bus Panorama is split between three main sections, "Feature Articles", "National News Roundup" and "Fleet News".
Feature Articles

Every edition of A.B.P. contains several feature articles researched and written by our members, accompanied by several photos provided by our members and/or from our extensive archives.
Articles cover a vast range of topics including:
Major news items, such as changes to regulations or new contracts;
Significant network revisions, both locally and interstate;
Reviews of recent tours and events;
Highlights from bus conferences around Australia;
Tales from members' trips interstate or aboard;
Operator or manufacturer histories;
Development of bus services in a particular suburb or town;
Reviews of industry magazines from decades past;
Items from historic government gazettes or newspapers;
Obituaries of well-known industry figures
National News Roundup

Several pages are dedicated to a summary of shorter news items for each state and territory around Australia.
Among the breath of news items covered:
Operator takeovers;
Timetable changes;
Network planning and service reviews;
Special event services;
Significant rail replacement jobs;
Industrial action;
Government announcements;
State and Federal budgets;
Hot topics in mainstream media;
New infrastructure such as depots, interchanges or bus lanes;
Fare changes and ticketing systems
The news is complied from a range of sources including email tip-offs, regular browsing of operator and government websites along with posts on Australian Transport Discussion Board and numerous Facebook groups.
Our assistant secretary, Craig Halsall, assists with documenting Victorian timetable and service change news, being known for wealth of knowledge of the network and passion for timetables.
Fleet News

A long tradition of Victorian enthusiasts has been to document changes in fleets amongst operators across Australia, with vast records dating back to the 1950s.
The Fleet News section includes numerous pages of notes on recent fleet changes for operators of all sizes, noting each new delivery, second hand sale and vehicle disposal along with basic "Gen" details such as make, model, registration and seating capacity.
Several sources are used to compile the Fleet News notes, including posts on the Australia Transport Discussion Board and in the AussiebusGen Yahoo Newsgroup, the extensive fleet lists on Bus Australia along with direct reports from operators and employees.
The Fleet News notes are supplemented with photos of new deliveries throughout the magazine, including a four-page centrefold spread.
Obtain
Printed copies of all seven editions of Australian Bus Panorama are included as part of a Bus and Coach Society of Victoria membership. Factoring-in other membership benefits such as discounted rates on tours, this works out to a subscription rate of about $5 per issue, including postage.
Otherwise, A.B.P. currently retails for $9 and is sold through transport hobby shops, such as Train World in Brighton, The Railfan Shop in Mont Albert & ARHS Bookshop in Redfern, NSW.
Later in the year we plan to launch an online members' portal that will include back-issues of A.B.P. along with other past society publications.
Submitting content
Members are warmly encouraged to submit articles or photos to our esteemed ABP editor, Geoff Foster for inclusion in the magazine. Articles in M.S. Word format are preferred.
Content can be submitted via email to abp@bcsv.org.au
Alternatively, write to "ABP Editor, P.O. Box 247, Patterson Lakes VIC, 3197."
Sample Issues

We've uploaded three sample issues of Australian Bus Panorama for those interested in having a read.
ABP 29.6 – May-June 2014 (16.5 MB)
ABP 30.2 – September-October 2014 (11.9 MB)
ABP 32.4 – January-February 2017 (16 MB)