The Bus and Coach Society of Victoria is run by a small but passionate group of volunteers who organise tours; maintain our archives and virtual museum; and assist with the production of our bi-monthly Australian Bus Panorama magazine. The elected Committee meets about once every 2 months to discuss and plan upcoming society activities.
As can be seen below, the Committee is made up of people from numerous backgrounds across a diverse age group.
President: Geoff Foster
Geoff has been a member of the society since 1972 joining at age 16. Out of the last 45 odd years he has been on the committee for over 30 years with the odd year or two off here and there. He has served in most of the committee positions including a previous stint as president during the 1980s.
Following a few years co-ordinating Victorian content for Fleet Line he became editor of the society's own magazine, Australian Bus Panorama a role he has maintained now for over more than three decades. the committee for over 30 years with the odd year or two off here and there. He has served in most of the Committee positions including a long stretch as President during the 1980s.
In the late 1980s Geoff purchased and restored an ex U.S. Buslines Shark Front Comair Bedford SB3 which he drove to Sydney in 1988, in company with five other Victorian buses, for the opening of the Tempe Bus Museum. Geoff's main interests are in vehicle records, photography and company histories plus collecting models, timetables etc.
Having retired for the Department of Education a few years ago, Geoff is now enjoys regular trips across the world with his wife.
Vice-President & Restoration Officer: Steve Bayer
Steve started his career in bus industry at 25 at US Bus Lines working as a casual school and charter bus driver and since that time has worked for various companies. He currently works full-time doing charter and train replacement.
Steve is very enthusiastic about bus preservation and is among a growing group of our members with privately-owned vehicles.
Since he was a young child he has had a strong interest in public transport as some of his family worked in the industry He fondly remembers growing up in Ballarat and watching the local Davis' buses going up and down his street.
Secretary: Paul Kennelly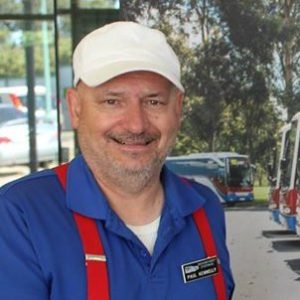 Paul recalls his interest in buses began at the age of 3 or 4 when he observed the local Clarinda Transport buses running past his house in Oakleigh. After a brief stint of the Committee in the late 90s, Paul returned to the Committee in 2004 as Archive Officer. His role expanded when he became Secretary in 2007, a position he has held since, other than in 2018/19 when he was President.
Paul was a teacher and teacher union official during his working life. Paul's "retirement project" has been to find and publish as much of the history of bus operations in Victoria as possible and he led the way in the establishment of the Virtual Museum as part of that process.
Contact Paul at: secretary@bcsv.org.au
Treasurer: David Kemp
David joined the BCSV in 2012, after his childhood fascination with buses was rekindled, as had his interest in trams some years before.
He recently served as Historic Research Officer (Heritage & Archive) and hopes that the BCSV will become a leading authority and resource on the role, history, key people and vehicle types of bus and coach operations in Victoria. David was previously our Assistant Secretary during 2017-2018.
He particularly enjoys seeing and riding in heritage buses of the 1950s and 1960s, especially Comair Bedfords. It is also a thrill to travel in some of the early American inspired coaches such as the Ansair Clippers, MCI 'Big Bears' and the GM vehicles.
Although David may have never driven a bus, he owns a restored 1949 Bedford K series 2-ton tray truck, and enjoys double-shuffling the 4-speed crash box.
Now retired, David previously worked for both ICI / Orica and CSL Pharmaceuticals, finishing up as an Engineering Manager. These days David volunteers at the Melbourne Tram Museum as a visitor guide. Other pastimes include video and photography; voluntary consulting and mentoring work; family; and a coastal farm.
Committee Member: Gary Driver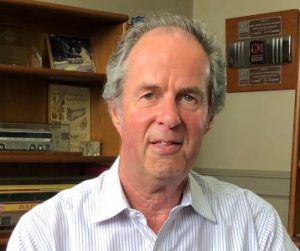 Gary is the 2nd generation owner and a director of Driver Bus Lines, founded in 1931 when Gary's father and uncle started operating buses between Camberwell and Glen Iris
As a 14 year old, Gary began 'preparing for the future' as he fuelled, washed and closely parked buses at the relatively small Glen Iris bus depot. Gary attained his heavy drivers licence when he was 19 and began working full time with his father, uncle and brother at Driver Bus Lines in 1970.
Gary has been a member of the Society since its inception in December 1968 and was a participant in the the very first bus enthusiasts tour a few months earlier.
Gary's passion for bus preservation began in 1982 after visiting a historic bus show in USA, with a 1954 Ansair Flxible Clipper subsequently purchased in 1983 becoming the first vehicle the Driver family restored.
This interest in, and commitment to, bus preservation can be seen at any HCVCA Display with not only former route service buses but also a whole suite of ex Pioneer Tours and Express coaches. The Driver Group now own over 20 restored vehicles including buses, trucks and cars.
Committee Member: Jason Lee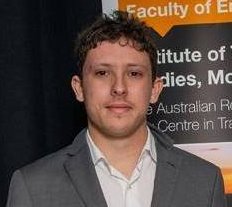 Jason started his career in bus industry at 16 at Melbourne Bus Link working as a casual in administration. Since then he has gone on to work for a number of large and small Victorian bus operators in both administration and operations roles.
Jason has a keen interest in rostering and operations as well as accreditation and safety. IN 2015/2016 he completed the Safety Management Course for Bus Operators through Monash University, being awarded with Overall Best Performance, the youngest person ever to get this award. The following year he completed the Transport Management Course for Bus Operators, again wining an award for his efforts.
Growing up in the inner western suburbs, Jason has a particular interest in former Government bus operations in Melbourne, especially M.A.N. SL200s.Outside buses, Jason is passionate in assisting asbestos victims seek justice and educating the community on the dangers of asbestos dust.