BCSV August Tour Day 2: CDC Wyndham Depot & 50 years re-enactment
August 5, 2018 @ 9:30 am

-

4:30 pm

AEST

$2.50 – $15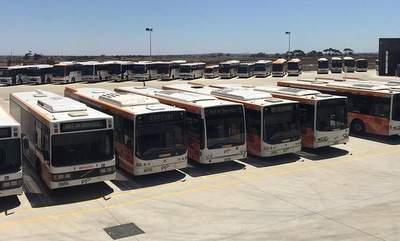 The BCSV are planning an action-packed tour weekend for August.
On Saturday 4 August we will visit Castlemaine Bus Lines, acquired by the Whitmore Group in mid 2017. Moonee Valley Coaches will transport us to Castlemaine onboard their preserved Austral. (Details – https://bcsv.org.au/event/bcsv-august-tour-day-1-castlemaine-bus-lines/ )
The BCSV: Bus and Coach Society of Victoria are excited to announce a visit to CDC Victoria's new Wyndham Depot on Sunday 5 August 2018. This new state-of-the-art facility replaced the former Altona and Werribee depots at the start of the year.
After enjoying lunch at Pacific Werribee (aka Werribee Plaza), we will return to the inner southern suburbs to re-enact the tour that was the genesis of the Society 50 years ago – held on Saturday 27th July 1968, prior to the formation of the BCSV: Bus and Coach Society of Victoria later that year.
This tour, which followed local Nuline routes around the Brighton area, was organised by Paul Nicholson, John Masterton and Bruce Tilley. We are pleased to announce that Paul Nicholson will join us next Sunday as our guest for a re-enactment of that very first tour. At least three heritage buses will be involved in the event.
COST:
$5 for members
$15 for non members
Under 18s half price
PICK-UPs:
BUS 1 – EASTERN SUBURBS
* Ringwood Station (first bus bay on Maroondah Hwy): 8:35am (return 5.35pm)
* Box Hill Transit Centre 612 stop: 9am (return 5:15pm)
BUS 2 – SOUTH-EASTERN SUBURBS & CITY
* Oakleigh Station 625 stop south side of station in Johnson St: 8:45am (return 4:50pm)
* Caulfield Station 624 Kew stop north side of station in Sir John Monash Dr: 9:05am (return either 2:45pm & 4:30pm)
* Southern Cross (216/219 stop outside Coles in Spencer Street, near Lonsdale St): 9:30am
NB: Bus #2 will not return to the City after the re-enactment. Express trains depart Caulfield at 10 min intervals – 4:40pm train to City from Caulfield will arrive Southern Cross at 4:58pm. Also see Hoppers Crossing option below.
BUS 3 – WESTERN SUBURBS & GEELONG
* Tarneit Station – 170 stop outside platform 1 – 10:05am (awaits the arrival of the 10:04am train from Geelong)
NB: Bus #3 does not offer a return drop-off. Passengers taking this option can either leave us at Werribee Plaza at 12:45pm & take a 170 bus back to Tarneit (buses operate every 20 mins) or find their own way home from Cauflield at the end of the afternoon re-enactment (drop off at 4:30pm)
HOPPERS CROSSING DROP-OFF
After lunch (approx. 12.45pm to 1.30pm), buses 1 & 2 will travel via Hoppers Crossing Station to drop-off anyone who does not wish to participate in the re-enactment. The 1:48pm train back to Melbourne arrives Flinders St 2:37pm & Southern Cross 2:42pm
CAULFIELD AFTERNOON PICK-UP
Those only wishing to join us for the afternoon portion are welcome to meet us at Caulfield Station. We plan to depart at 2:45pm from the 624 Oakleigh stop outside the racecourse at the corner of Normanby Rd & Station St (the stand once used for the 115A to Middle Brighton & Southland)
All times above are approximate. Please ensure you arrive 5 minutes before departure time.
LUNCH:
On Sunday choose from one of the many food court options at Werribee Plaza. Lunch is expected to be between 12:45pm & 1:30pm.
High-vis vests must be worn at the CDC depot.
RSVP:
Email tours@bcsv.org.au or select "Going" on the Facebook event pages for both days
Day 1: Castlemaine Bus Lines – Saturday 4th August – https://www.facebook.com/events/724940484380347/
Day 2: CDC Wyndham & 50 years re-enactment – Sunday 5th August – https://www.facebook.com/events/207332276694280/
Related Events