BCSV May Meeting: Coaches in the snow & MTT Adelaide encore
May 19, 2019 @ 3:00 pm
AEST
Free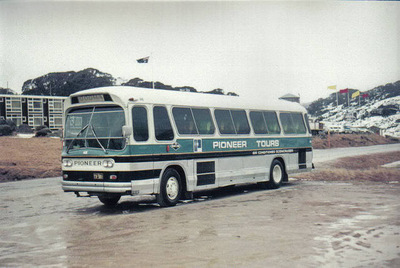 Change of May Social Meeting Syllabus Item
We had planned to have Cos Sita as our special guest speaker at our May Meeting, along with Pino Gattellaro (Sunshine Tours)
However, Cos' mother has recently passed away.
The Society extends its condolences to the Sita family. Because of this, Cos has asked for his address to be postponed to September, and we are happy to accede to his wishes.
An alternative programme has been arranged at short notice, featuring "Coaches in the snow", using footage on the NSW Snowfields taken by Greg Travers and part of his Australian Buses No 7 DVD.
Paul will also complete our feature on Adelaide government buses from their beginnings in the 1920s through to the Volvo B59s and AEC Swifts. This will include trolleybuses as well as the petrol and diesel MTT buses.
Our bi-monthly Sunday social meetings are held at Hawthorn Tram Depot / Melbourne Tram Museum, 8 Wallen Rd, near the corner of Power St.
Alight Tram Routes 70 & 75 at Riversdale Junction. Alternatively, Hawthorn Station on the Belgrave/Lilydale line is a short 10 min walk away.
Each meeting concludes with a short afternoon tea and chatter on the latest industry gossip.
Both members and guests are welcome, free admission.