BCSV Members' Tour: Volgren Dandenong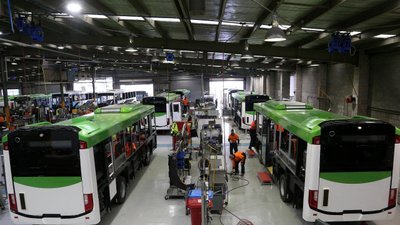 We are pleased to confirm the date and time for our members-only tour for January 2019, to be held on the afternoon on Friday 25 January 2019.
Some significant late changes have been made.
In some good news, we have been able to secure an additional 10 spaces for the visit to Volgren. All members on the wait list will now be able to attend. Thanks to those on the wait list for their patience.
Unfortunately, Kingstons Tours have cancelled the planned tour bonus. Management has advised us that, due to work requirements and availability of staff, they will not be able to host us at this time. We apologise for this, but the decision was beyond our control.
For the Volgren tour, those currently on the wait list will be emailed a copy of their ticket from TryBooking over the weekend. However, given the modest numbers attending, we will not require presentation of the tickets on the day. We have used this "no cost" tour to trial the online booking process and will modify it in the future based on our experience and feedback from members.
Due to the overwhelming demand, Volgren has now requested we stagger the arrival of the groups of attendees to best manage the day, especially the brief induction period which can only be done in small groups. The cancellation of Kingstons has also allowed an earlier start (first group 2pm), also something that Volgren welcomed given the size of the group.
To ensure the staggering of groups of the Volgren visit, we are going to request that attendees reserve a spot in one of four groups. These are split up into those who will be driving and those who are using the transfer options from Dandenong.
The visit for each group will remain approximately 2 hours in duration. Those who are driving will be able to leave at the end of their guided tour or otherwise hang around for the group shot at the end.
TOUR GROUPS
The four groups are as follows:
GROUP 1 – ARRIVE VOLGREN BY CAR for a 2pm start, finish approx 4pm
GROUP 2 – ARRIVE VOLGREN BY CAR for a 2:15pm start, finish approx 4:15pm
GROUP 3 – HERITAGE TRANSFER BUS departing Dandenong Station (V/Line Bus Bay) around 2:15pm, return to Dandenong by 5:15pm
GROUP 4 – MODERN TRANSFER BUS departing Dandenong Station (V/Line Bus Bay) around 2:30pm, return to Dandenong by 5:15pm
Those in Groups 3 & 4 will have the option to return back to Dandenong on the alternative vehicle.
Those driving or carpooling should park in the staff carpark off Hammond Rd with overflow parking on the side street (Ruhr Street). Volgren advises some staff will still be in attendance in the factory on the day of the visit despite the RDO.
RSVP
We suggest you make contact with friends you hope to share the afternoon with and then email tours@bcsv.org.au with your preferred option. Spots will be allocated on a "first-come, first-served" basis. Should an option reach capacity, will we place you on the list for the alternative choice, mindful of friendship groups.
Most attendees who failed to select an option were contacted on Wednesday with an allocation made by the tours team, to ensure they are aware of the changes.
Please note that these bookings are restricted to those who had previously secured a spot via an online bookings or had placed their name on the waiting list before it closed. No late comers.
EXTREME HEAT FORECAST – 44 degrees (REVISED AGAIN!)
Please be aware of the current forecast of 44 degrees on Friday ahead of an afternoon cool change. We can only hope the cool change arrives early at this stage, as it will be a sleepless 29 degrees overnight too.
The option of postponing the tour would have been best made on Sunday when the committee met for their bi-monthly meeting, but at that stage the official BoM forecast for Friday was just 35 degrees with a lunchtime cool change. (Meteorologist Jane Bunn on Channel 7 took it upon herself to issue a more realistic forecast of 40 degrees on Sunday night's news, while the committee meeting was already underway)
At this stage, the tour will proceed as a number of members have chosen to take the day off work to attend, and alternative dates in school term are difficult for a number of people who study or work as school charter drivers.
Older members may wish to give the visit a miss on health grounds. We'd appreciate those who are no longer coming to advise us via reply email so the attendance list can be updated.
For those who decide to attend, chilled water and soft drink will be offered at both the start of the day, during the visit and with afternoon tea at the end. This will be at no cost to attendees.
DRESS REQUIREMENTS – Pants & Hi-Vis Vests mandatory
As advised over the weekend, Volgren has strict requirements for all visitors to wear full length pants in the production areas of the factory. As the factory will be partly operational on Friday, this requirement has not changed despite the forecast of 43 degrees.
Those who wear shorts (or indeed less) may find themselves forced to sit out for large sections of the tour.
We'd further suggest wearing a shirt/T-shirt with at least half-length sleeves, rather than a singlet.
Members should also ensure they bring their hi-vis vest as required by Volgren inside the factory. A small number of vests will be available on the day.
Closed shoes are also required. Ideally leather shoes would be worn, however rubber/vinyl runners/sneakers will be accepted given some members may not own leather shoes.
Volgren have asked us to stress that, "If attendees are not wearing the correct attire they will not be allowed into the factory."
As the tour will include the outside sections of the plant, we'd encourage members to wear a hat to avoid getting sunburnt. The society will have a bottle of sunscreen available upon arrival.
VOLGREN CODE OF CONDUCT
The
code of conduct for visitors
at the Volgren factory covers other key rules including not being under the influence of drugs or alcohol, no mobile phone usage inside the plant and photography restrictions.
Agreeing to the code of conduct is part of the requirement of entering the factory. Failure to comply with the code will see ejection from the plant.
Those with access to printers are encouraged to print their own copy out, sign it and bring it on Friday, however printed copies can be obtained upon arrival.

E-TICKETS

Please note the presentation of E-Tickets from Trybooking are not required for this tour. The E-Tickets are issued automatically and were to confirm your spot when bookings opened. As we know everyone coming well, we'll simply cross your name off the attendance lists for each group.
Save some paper and just print off the Code of Conduct attached!
QUESTIONS
Any last minute questions should be directed to tours@bcsv.org.au or call BCSV secretary Jason Blackman on 0406 407 004.