Ethanol Scania Farewell
October 13, 2019 @ 11:00 am

-

4:00 pm

AEDT

Free – $10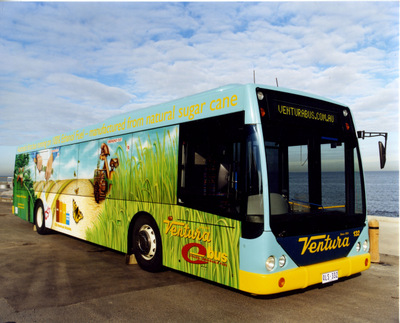 Enjoy a final sugar-hit to send off Ventura's Ethanol-powered Scania L94UBs on Sunday 13 October.
After nearly 19 successful years of service, these trial vehicles are soon to be withdrawn ahead of the arrival of another 15 Scania K310UB low floors in the final months of 2019, thus bringing the experiment to an end.
These are believed to be the only three 100% Ethanol powered buses in Australia, each powered by sugar cane waste by-product.
Common in Sweden and Brazil, the cost of ethanol fuel in Australia has been a large barrier, prohibitive for a widespread roll-out. A similar trial of Canola bio-diesel by Invicta in 2001/2002 also came to a halt due to cost and the availability of the fuel.
We will use two of the three Ethanol buses for our farewell tour on Sunday 13 October. The date has been chosen to avoid a clash with the two-day Adelaide tour in late October.
Our tour will commence at Huntingdale Station bus interchange at 11am (awaiting the 10:55am train arrival from Melbourne) and travel along sections of Oakleigh Depot routes the trio were commonly used on.
We expect to return to Huntingdale around 4pm.
Those seeking a shorter day are welcome to depart the tour at Box Hill around 2:30pm. Attendees also have the option to board the latter part of the tour here and join us for the last hour & a half.
A lunch stop will be provided at Forest Hill Chase Shopping Centre (own expense).
Owing to the short notice, the BCSV committee has decided that the tour will be free to BCSV members, including those who join or renew on the day. The non-members fare is $10, with under 18s half price.
Membership info – https://bcsv.org.au/membership/
We thank Ventura management for their assistance in making the farewell possible.