Historic Commercial Vehicle Display – Yarra Glen *NEW DATE*
February 19 @ 9:00 am

-

3:00 pm

AEDT

Free – $10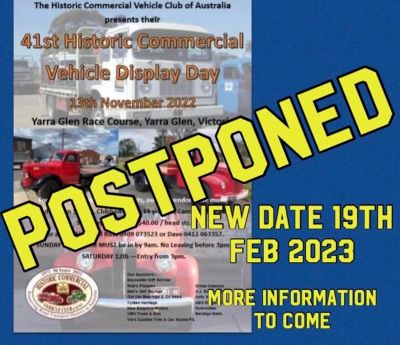 IMPORTANT UPDATE
Sadly the event will be postponed to the new year, now to be held on SUNDAY 19th FEBRUARY 2023 (HCVCA dinner on the 18th). This follows recent flooding in the area and another wet weekend ahead.
Thanks to HCVC (Historic Commercial Vehicle Club of AUST.) and Yarra Glen Racecourse for arranging another date for us.
More time to give our buses and trucks some love over summer!
A statement from HCVCA can be found on their Facebook Group – https://www.facebook.com/groups/hcvca/posts/3398244760410711
==========
DISPLAY DETAILS
Join the HCVCA (Historic Commercial Vehicle Club of Australia) and BCSV (Bus and Coach Society of Victoria) for a relaxing day out at Yarra Glen Racecourse on Sunday 19 February enjoying the 41st Historic Commercial Vehicle Display, with the HCVCA also celebrating their golden anniversary this year.
Entry is $10 per person with under 14s free! Free parking on site.
Inspect some of the hundreds of vehicles on display, from vintage trucks, buses and tractors, to steam engines and older cars.
Bus operators who regularly take part include Driver Bus Lines, Moonee Valley Coaches, Dysons, Ventura, Diamond Coaches, John Usher's Invicta collection, among others.
There will be kids amusements, including face-painting and a jumping castle, and also a Touch A Truck section where kids are able to hop into trucks and have a squizz how they all work.
Enjoy live music all day, rocker cover races, which always draws a huge crowd, trade stalls, and of course delicious food and drink stalls.
HCVCA will also draw the much anticipated Tool Box Raffle at approx 2:30pm.
==========
DISPLAY DAY SHUTTLE BUS
On Sunday 19 February a transfer bus will depart the Driver Bus Lines depot at 45-53 Ricketts Rd, Mt Waverley at 8:30am
Montrose Bus & Coach will operate a second transfer bus from Lilydale Station at 9:20am.
Please be aware that there are works in the City Loop and between Camberwell & Box Hill which require catching an earlier train to meet the transfer bus at Lilydale.
We suggest:
1 – Catch the 7:46am train from Flinders Street (direct to Richmond), arriving Camberwell at 8:01am
2 – At Camberwell take an EXPRESS bus to Box Hill which will arrive in time for the 8;42am train to Lilydale (the express bus is not in the Public Transport Victoria journey planner)
3 – Take the 8:42am Lilydale train at Box Hill and arrive Lilydale at 9:14am.
4 – Look for the transfer bus supplied from Montrose Bus & Coach departing at 9:20am. This will depart from the 683/684 stop located on Maroondah Hwy (near Professionals Real Estate)
If you are unable to reach the City by 7:45am, you can join us late morning by taking the 684 bus and changing to the 685 at Coldstream.
1 – Take 684 bus from Southern Cross Coach Terminal at 9:45am, arriving Coldstream at 10:46am (touch off for a Zone 1+2 fare!)
2 – Take 685 bus from Coldstream at 11;07am
3 – Alight at Yarra Glen Racecourse at approx 11:20am
Alternatively, get a later train to Lilydale to connect with the 11am 685 departure (the 9:16am direct train from Flinders Street should meet the bus with transfers at Camberwell, Box Hill and Ringwood)
The return transfer buses will depart from Yarra Glen shortly after 3pm, returning to Lilydale by 3:45pm-4pm & Mt Waverley around 4:30pm.
==========
MEMBERS' PREVIEW
BCSV members should refer to their email sent Tuesday 14 February for details on the members' preview on Saturday afternoon.
Any interstate attendees are also welcome and can email Paul Kennelly (secretary@bcsv.org.au) for details
==========
BRINGING A VEHICLE?
BUSES & COACHES
Owners of preserved buses wishing to present their vehicles can contact BCSV Secretary Paul Kennelly via secretary@bcsv.org.au for further details, or call him on (03) 9509 1593
Parking is available from 3pm Saturday afternoon for those wishing to secure a prime position or group their fleet together.
Vehicles should arrive by 9am Sunday and must remain in position until 3pm on Sunday.
TRUCKS & TRACTORS
Those wishing to present preserved trucks, tractors or other machinery should contact the HCVCA directly for bookings.
Contact one of the following people:
Russ – 0409 073 523
Dave – 0412 063 357