BCSV Tour and Depot Visit to McHarrys, Geelong
January 31, 2021 @ 8:00 am

-

6:00 pm

AEDT

$5 – $20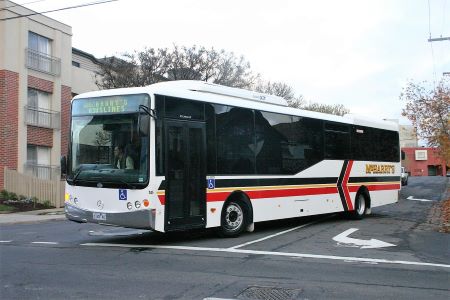 The Bus and Coach Society is pleased to announce that its first post-covid lockdown tour to McHarry's, Geelong will take place on Sunday 31 January 2021, visiting both the main depot and a satellite depot with a BBQ lunch included. This event was to have run in March 2020 but had to be deferred.
COST
Tour cost will be $10 for members, and $20 for non members with a 50% discount for persons under 18.

MEMBERSHIP RENEWALS
For those yet to renew their membership for 2020-2021, see https://bcsv.org.au/membership/
Cash payments will be accepted on the day.
TRANSFER COACH / PICK-UPs
The transfer coach for the day has kindly been provided by Bayside/ Nuline with volunteer driver and BCSV member Jason Lipszyc at the wheel. We thank both the company and Jason for their involvement. People may be aware that the company has provided a lot of support for the Fight MND charity, including having a coach in wrap livery. As a mark of our respect for Bayside/ Nuline, the BCSV Committee has agreed that all revenue from the tour, less expenses, will be donated to Fight MND. We also thank McHarry's for their willingness to host our visit.
**UPDATE** We are pleased to announce that a second tour coach has been generously provided by Gary Driver & Driver Bus Lines. This will ensure enough seats for everyone and allow greater social distancing.
Members can choose to travel on either coach.
COACH 1 – BAYSIDE
* Bayside Depot at 36 Whiteside Road, Clayton at 8am (please park in the drivers' car park NOT the main bus yard. This is NOT a depot visit on this occasion and attendees should move straight from car to the transfer coach.).
* Caulfield Station, north side, 8.25am
* Malvern Station, south side, outside Tyreplus, 8.30am
The coach will then run express to Geelong.
Drop offs on the way home will be at around 5.25pm at Malvern and 5.30pm at Caulfield with arrival at the Bayside depot at about 6pm.
COACH 2 – DRIVER
* Driver Depot at 45-53 Ricketts Road, Mt Waverley at 8.25am (please be at the depot by 8.20am).
* Southern Cross outside Coles near the intersection with Lonsdale Street at 9am
The coach will then run express to Geelong.
Drop off at SC on the way home will be at around 5pm for those with connections. Arrival at Mt Waverley should be around 5.30pm.
GEELONG LOCALS
A pick-up at Marshall Station at 10:15am will still be available for those who have requested it. For anyone wishing to drive directly to McHarrys, parking is available in Reeves Court, Breakwater.
For anyone wishing to drive directly to McHarrys, parking is available in Reeves Court, Breakwater.
The depot visit will last from approx. 10.30am to approx. 3.30pm.
2020 BCSV AGM
The 2020 Annual General Meeting of the Bus and Coach Society of Victoria will be held on Sunday 31st January 2021 at the McHarry's Buslines depot, 6 Reeves Court, Breakwater at 1pm, prior to lunch. 
The AGM is now being held at Geelong in order to allow tour attendees joining at Geelong to participate.
Elections for the Committee will be conducted at the AGM along with the presentation of the annual and financial reports.
Further details including committee nomination forms & proxy forms can be found at https://bcsv.org.au/event/bcsv-agm-2020/
COVID-SAFE RULES
Hi Viz vests will be required to be worn inside the McHarry depot premises and a few additional covid safe rules will apply.
Be aware that these may be subject to change if there are any changes to Government Health directions.
In addition to recording names in the attendance book, your phone number will also need to be recorded. This applies to both members and non-members.
Masks are to be worn on board the transfer coach, on board any McHarry buses taken out for a run and inside the McHarry office/ workshop buildings. Masks will probably not be required whilst out in the depot yards.
Supplies of hand sanitiser will be available. Please use it regularly during the day and especially before eating lunch.
Please observe social distancing requirements as far as is possible.
The procedure for photo lines for posed vehicles may be adjusted to have 6-8 people at a time taking pics instead of everyone crowding together. Participants will need to abide by instructions from the tour organisers to make this go smoothly.
RSVP
Please advise of your attendance to the Facebook event page. Alternatively, contact BCSV Secretary Paul Kennelly – Phone: (03) 9509 1593 or Email: secretary@bcsv.org.au
Related Events