Nuline Charter / Bayside Coaches – 25th Anniversary Tour
April 23 @ 9:00 am

-

5:00 pm

AEST

$10 – $20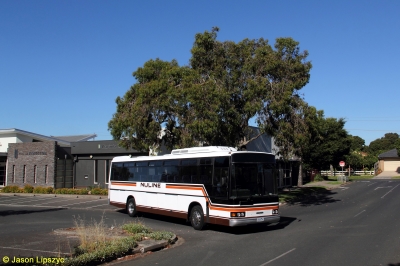 The Bus & Coach Society of Victoria is planning to visit the three depots of Nuline Charter and Bayside Coaches in Moorabbin, Clayton and Spotswood on Sunday 23 April as part of an all-day tour, open to both BCSV members and guests.
The day will include rides on a variety of vehicles in the predominantly Volvo fleet. The availability of the low floor rail fleet for rides and photos will be subject to Metro Trains "Big Build" occupations occurring on the day of our visit.
This tour will mark the 25 year anniversary of Nuline Charter under the sterling leadership of Geoff Vickers & Andrew Czarnecki, growing the business to over 120 vehicles today.
On 9 February 1998 Geoff Vickers & Andrew Czarnecki of Bayside Coaches purchased 21 vehicles from Craig Coop of Nuline Bus Services and renamed the operation as Nuline Charter.
The BCSV committee is still finalising tour details including pick-up locations and costs but these will be communicated online and via email in the coming month or so. It is expected the usual BBQ lunch will be offered.
With a number of enthusiast tours planned for March & April, we felt it was important to stamp our mark on this weekend now.
This will also allow interstate visitors an early opportunity to book flights and accommodation, noting this is near Anzac Day and savvy travellers are already planning long weekends away.
A highlight of the day will be sampling #111, a 1997 Scania K93 Austral Pacific 'XL" (see event cover photo by Jason Lipszyc) recently repainted back to original colours.
This is the only original vehicle purchased by Craig Coop (Nuline Bus Service) still with the Nuline Charter fleet and remains in ad-hoc use. This bus was renumbered from #100 after being semi-withdrawn during the many COVID-19 lockdowns, before being called back into action as charter demand returned. #100 was also its original number at Nuline Bus Service.
========
AN ABRIDGED HISTORY OF NULINE
The Nuline brand has been synonymous with Melbourne's south-east since 1949 when a business syndicate, headed by Charlie Spence, acquired two routes in the Caulfield area from Mr Lee, who had purchased the routes from Eastern Suburbs Omnibus Service (ESOS) 6 months earlier.
The business has gone through multiple owners in the decades since including Joe Bellofiori & Ray Higginson (Moonee Valley Bus Lines) in March 1972 and Craig Coop in January 1987.
Under Craig Coop Nuline acquired 7 buses and the Centre Rd depot from the Bentleigh Charter 14 August 1988, previously operated by the Suhr family. Bentleigh Bus Lines' route services had previously been sold to Ventura effective 27 April 1987.
Nuline continued to run local routes focused on Moorabbin & Brighton until 30 September 1991 when they transferred these across to Grenda's/Moorabbin Transit. In exchange they took over the former Camden 627 Elsternwick – Chadstone – East Brighton route from Moorabbin Transit. Craig Coop soon sold the route to Driver Bus Lines on 1 May 1992.
The most recent ownership chapter began on 9 February 1998 when Geoff Vickers & Andrew Czarnecki of Bayside Coaches purchased 21 vehicles from Craig Coop of Nuline Bus Services and renamed the operation as Nuline Charter. The focus in the years since has been school and general charter along with a rapidly expanding fleet of rail replacement buses.
Nuline Bus Services remained as a trading name for Craig Coop (mostly for school charter work) until the majority of his vehicles were sold to Diamond Coaches in Melbourne's north-east in September 2018.
Andrew and Geoff had previously acquired two vehicles from Craig Coop on September 23 1995 to form Czarvic Pty Ltd, trading as Bayside Coaches. Bayside Coaches continues as a premium brand alongside Nuline Charter.
In mid 2021 Nuline absorbed Victorian Touring Coaches from Bill Armstrong via liquidators; another long-standing operation also dating back from 1949 which sadly fell victim to the rolling COVID-19 lockdowns in Victoria.
Most recently effective 1 February 2023 they have purchased the Jay Tee Coaches business from John Trenfield, but not the vehicles.
Related Events