Ash Long was an early member of the Society. Here are his boyhood recollections of the buses in Melbourne's north:
In the 1950s, one suburban block away from our home in the northern suburb of Reservoir was a bus stop. Today, that spot, at the corner of Delaware St and Mendip Rd, has a concrete seat on the nature strip. For many years that nature strip did not have a seat. Nor did it have a 'Bus Stop' sign. In fact, when I was a youngster, there wasn't even a footpath. But there was the bus.
When I was 2 or 3, in 1958-59, the bus stop was my link with the outside world, beyond our street, beyond our neighbours. Going to the bus stop meant a trip to the outside world, to be with other people, to see different colours, to experience, hear, smell, touch different things.
A trip to East Preston usually meant a connecting tram trip from the terminus at Tyler St. This meant a visit to my maternal grandparents in Thornbury, a shopping journey to the City, or perhaps a trip to Foy & Gibson in Smith St, Collingwood/Fitzroy. So a trip to the bus stop was exciting. As was the custom for the time, my mother did not drive a car, so we either walked, or caught the bus.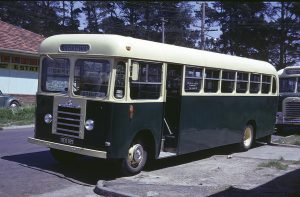 For me, that bus was the dark green and cream vehicles operated by Webb and Williamson, the Coopers, and others, on a service that became to be run by East Preston and Epping Services, which later became Reservoir Bus Company.
My first hazy memory as a three-year-old is of a bus that may well have been a different colour to the green-and-cream livery. The bus was much smaller than the vehicles we see in the 21st Century. The first buses may have even been as small as 11- or 15-passenger capacity, I remember it had perimeter seats, and shiny vertical chrome poles inside, for standing passengers to grasp. There were printed cardboard advertisements above the window line.
The bus drivers would take time to say hello, often addressing passengers by name, which would probably have taken the form of 'Mrs Long' for my mother. That was the social custom of the time. The bus fare would have been just a penny or two, even less for children. Sometimes we would catch the bus at a different stop, just one block away, because that was the end of the section. Often, regular drivers would let you travel the extra stop, without charging you the extra penny. You quickly became to know the 'good' drivers, and the 'grumpy' ones.
Times were very different in the early 1960s. By age 8, I was permitted to travel by myself, or with a chum. In 2012, parents would not imagine letting youngsters travel by themselves at that age, but society was a safer place in 1964.
Northland Shopping Centre, East Preston, opened in 1966 and that meant a route extension for many of the local services. I have vivid memories of over-loaded 'SB' Bedfords, with CAC bodies, transporting the last service out of Northland, just after 12 Noon on Saturdays, when shops then closed. Likewise, these crowded SBs were common place if there were tramway or railway strikes or breakdowns. You knew that it all hands to the pump when co-owners John and Peter Cooper were at the wheel, or some of the older fleet were put into service.
By age 11, I was travelling from Reservoir to Ivanhoe Grammar School daily. That meant a bus trip, an 88 tram journey from East Preston to Thornbury, then a connecting 'Green bus' (now Moreland Bus Lines) service to Ivanhoe. This opened my eyes to a whole new selection of buses including Leylands, of different shapes and colours.
As I grew older, I would experiment with different ways to return home from Ivanhoe. Sometimes, that meant a train trip to Fairfield, aboard the then-red-and-white Northcote-Northland bus (later Dyson's). An attraction of that trip was that teenage TV singer Debbie Byrne was often on that bus, making her way home to Thornbury.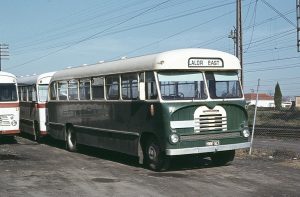 We are now talking about the early 1970s. Another alternative trip was the Ivanhoe Bus Company route from Ivanhoe to Mont Park, where there was a connecting Northland service from West Heidelberg. The Ivanhoe Bus Company drivers used ticket machines that looked like miniature telephones. Stubbed tickets were the norm everywhere else.
I began to collect tickets, timetables, and take an interest in buses as a hobby. At nights, back at Reservoir, I would ride my bike, usually ending up at the RBC depot, watching the buses coming in at the end of their shifts. At that stage, RBC was housed in a number of premises in High St and Howard St, including vacant gravelled suburban blocks. Drivers were able to skillfully park dozens of buses, side-by-side, separated by just inches.
Fred Doidge was the man responsible for logging the return of each vehicle, filling them with diesel or petrol, and parking them, ready for the early morning drivers. He allowed this young teenager to re-fuel the buses from the Esso pumps – and to adjust the destination roll for each bus for the first service next morning. Imagine the Occupational Health and Safety issues that such a practice would evoke today.
Everyone at Reservoir Bus Company was very kind to me. This included the Coopers, Pat Quinn, and a very young trainee, Russell Ward. They used to welcome me, and helped me with my growing fascination with buses. Drivers such as Fred Grimes (?) gave me memorabilia such as London timetables, and he used to tell me about the number double decker services to Shepherd's Bush.
A common practice for school children of the 1960s and 1970s was to write to organisations for 'project kits'. I would repeatedly write to the authority that oversaw bus operations in Victoria, the Transport Regulation Board. They would send a list of bus routes in Melbourne, which I would map out in a Collins or Morgan's Street Directory, bought from Norman Bros. stationers. This was in days before photo-copiers, faxes and internet. The detailed TRB Lists was printed off on a Gestetner ink duplicator – often, I suspect, just for me.
I would also pester the Department of Civil Aviation who would send kits about Essendon Aerodrome; the Melbourne and Metropolitan Tramways Board, who would oblige with lists of the contents of destination rolls on W-Class trams; and the Victorian Railways, which helped satisfy the curiosity about Tait and Harris trains.
Each bus company printed off their own timetables, usually by duplicator. Some companies only did so for holiday timetables.
In the early 1970s, Melbourne's bus industry increasingly got its act together. More standardised timetables, complete with primitive maps, were printed. Many of these were available from the Victorian Travel Bureau in Collins St. Boy, did I pester them to build my collection. Prominent in these improvements were familiar industry names such as Grenda's, Ventura, and Dyson's. The last-named benefitted from a depot visit by this teenager-on-a-bike on Sunday mornings, after I finished my Sunday Observer delivery round.
I don't remember how my contact with the Bus and Coach Society of Victoria began. I recall that an executive of the Bus Proprietors' Association took me on a tour of the Commonwealth Aircraft Factory at Fishermen's Bend, so the contact may have been through this channel.
There are many names to recall from those days: John Masterton, Bruce Tilley, Geoff Mann, Keith Kings, Paul Nicholson … plus many others. As a teenager I recall joining in some excursions: one trip around Essendon, another to the Latrobe Valley aboard an AAT Mercedes; and another Queens Birthday Weekend journey to the Australian Capital Territory. I devoured each BCSV newsletter, with histories of various operators, route changes, and vehicle news.
I took a journey to Hampton Park, where a local bus driver introduced me to Truck and Bus Transportation magazine, generously letting me take some copies home. The State Library was also handy to go back years of bus history.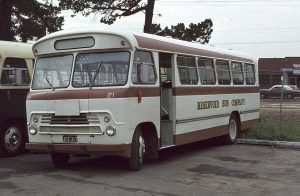 My long-suffering father, Jim, also drove me to BCSV Secretary John Masterton's home for an evening meeting. John had filing cabinets full of Melbourne bus memorabilia. He used to put up with nightly phone calls, and let me join in some of his restoration and signwriting work for Nuline, and Eastern Suburbs Omnibus Company.
As an older teenager, I began to research the Melbourne bus routes of old, dating back to the first 'omnibuses' of the 1920s, and even earlier. I went through every weekly of the Victoria Government Gazette, and traced every route change over decades.
That giant body of research found its way to America, where a man was completing his Masters or PhD on Melbourne's transport system. He paid me $100 – a fortune for a teen, in 1973. It would have cost me a fortune to make a duplicate, so the only copy of Melbourne's bus routes history went to America.
So, there is my teenage fascination with Melbourne's buses. Travelling on them, spotting them, tracing their routes, following their registrations and transfers, being involved with the people who ran them and watched them.
In my mid-teenage years, my interest was diverted to trains. Or one train in particular. The Epping line service, which arrived at Reservoir station at 7.43am, had a very pretty girl who came from Lalor.
We travelled by train daily to Clifton Hill, transferring to the Hurstbridge line service, to take us to our respective schools at Ivanhoe. That girl, Fleur, was much more interesting that a Bedford. Fleur and I have been together for more than 40 years. We have been married for 35 years. Raising children (and now grandchildren), and running demanding publishing businesses, has meant that there has been little time to pursue the 'gen' on what were once nicknamed 'vehicular inanities'.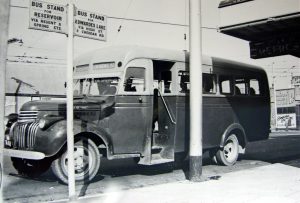 Thank you for the opportunity to walk down memory lane to my local bus stop – and the world to which it took me.