Roughly every 5-6 years Christmas Day falls on a Saturday, which results in some six public holidays across a 10 day period instead of the three traditional days off (Christmas Day, Boxing Day & New Year's Day). In recent years this phenomenon has occurred in 2004 and 2010, with a leap year in 2016 skipping over that year's turn. 2021 has seen this once more.
This year (2021) has also seen the introduction of a changes to the Night Bus network, with some 21 regular routes across the metropolitan area now running 24 hours a day each weekend, complimented by 13 standalone Night Bus routes which only run Saturday and Sunday mornings. A majority of these routes operate from suburban stations (connecting with all night trains) rather than feeding into the CBD.
Each year Christmas Day runs to the Sunday timetable, but 2021 also saw the same for Boxing Day as it fell on a Sunday. In spite of this, and with fewer passengers travelling overnight (with most Night spots shut and family time priortised), PTV opted to operate the standard Night Network services.
There was however no Night Network provided for the "in lieu" public holidays on Monday 27 December and Tuesday 28 December.
With New Year's Day also falling on a Saturday, bus services that form Night Network ran once more. This follows a few years of skeleton routes, with PTV citing low patronage on normal weekends for not running the full network, despite large numbers out and about after midnight welcoming in the new year. .
Like the previous week however, there is no Night Network services operating for the New Year's Day holiday falling on 3 January.
Effectively, Night Network operated as usual on Saturday and Sunday mornings on both weekends, regardless of the public holidays. The following table summarises the service levels for each day across the festive period.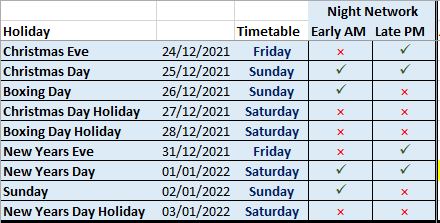 As of December 30 there were numerous issues with the data presented by PTV for the 21 standard routes operating as part of Night Network. Concerningly, only 3 of these routes were showing buses as operating after midnight on New Year's Eve into New Year's Day, but that were also a range of other issues identified.
Closer attention appears to have been made to ensure the timetable data for the stand-alone Night Bus network is correct, with no obvious issues identified.
Special mention is made of Route 788 serving the popular holiday hotspot of Mornington Peninsula, with an enhanced summer weekend timetable not being made available, while a recent update Route 670 with the opening of the new station has seen public holiday data disappear (in an area where few other routes run on public holidays).
Eastern & South-Eastern Melbourne
Stand-alone Night Bus routes 
Various issues noted with online timetables for each route are summarised below. These issues also flow-through to the PTV app and journey planner.
While only a few examples below will leave passengers stranded, the concern is that many routes are not advertising trips as operating, which will amount to "ghost buses" plying the network on New Year's Eve. This could ultimately have consequences for service levels in 2023 when New Year's Day falls on a Monday, poor patronage in previous years could result in these routes missing out on an all night service (as was the case under the old Night Bus network).
Route 150 Tarneit – Williams Landing (CDC)
Christmas Eve (Friday): Missing 9pm – 12am Night Network trips (towards Tarneit)
Christmas Day:

Missing 9pm – 12am Night Network trips (both directions)

Boxing Day: Correct
Christmas Day Holiday: Correct
Boxing Day Holiday: Correct
New Year's Eve (Friday): Missing 9pm – 12am Night Network trips (towards Tarneit)
New Year's Day:

Missing 12am – 6am & 9pm – 12am Night Network trips (both directions

)
Sunday 2 Jan: Correct
New Year's Day Holiday: Correct
Friday: Missing 9pm – 12am Night Network trips (towards Tarneit)
Route 180 Tarneit – Werribee (CDC)
Christmas Eve (Friday): Correct
Christmas Day:

Missing 9pm – 12am Night Network trips

Boxing Day: Correct
Christmas Day Holiday: Correct
Boxing Day Holiday: Correct
New Year's Eve (Friday): Correct
New Year's Day:

Missing 12am – 6am & 9pm – 12am Night Network trips

Sunday 2 Jan: Correct
New Year's Day Holiday: Correct
Saturday:

22:04, 23:04 trips not footnoted as "does not run public holidays"

Sunday:

00:04 trip not footnoted as "does not run public holidays"
Route 190 Werribee – Wyndham Vale (CDC)
Christmas Eve (Friday): Correct
Christmas Day:

00:21 & 01:13 ex Werribee trips / 00:03 & 00:48 trips ex Wyndham Vale not required (as late night Fri TT operates)

Boxing Day: Correct
Christmas Day Holiday:

Unclear if 00:21 & 01:13 ex Werribee trips / 00:03 & 00:48 trips ex Wyndham Vale should run at end of day (Saturday night trips not part of Night Network)

Boxing Day Holiday:

Unclear if 00:21 & 01:13 ex Werribee trips / 00:03 & 00:48 trips ex Wyndham Vale should run at end of day (Saturday night trips not part of Night Network)

New Year's Eve (Friday): Correct
New Year's Day:

Missing 1am – 6am Night Network trips

Sunday 2 Jan: Correct
New Year's Day Holiday:

Unclear if 00:21 & 01:13 ex Werribee trips / 00:03 & 00:48 trips ex Wyndham Vale should run at end of day (Saturday night trips not part of Night Network)
Route 207 City – Doncaster – Box Hill (Transdev)
Christmas Eve (Friday): Correct. Timetable covered trips until 6am Christmas Day.
Christmas Day: Correct. Overnight AM trips shown under Christmas Eve. Extra trips from Box Hill between 10:30pm & midnight to cover early Sunday night finish of 903. Timetable covered trips until 6am Boxing Day.
Boxing Day: Correct. Overnight AM trips shown under Christmas Day.
Christmas Day Holiday: Correct
Boxing Day Holiday: Correct
New Year's Eve (Friday): Correct
New Year's Day:

Only showing first & last Saturday Night Network trips

Sunday 2 Jan: Correct
New Year's Day Holiday:

Incorrectly showing first & last Saturday Night Network trips (although footnoted)
Route 250 City – LaTrobe Uni (Transdev)
Christmas Eve (Friday): Correct. Timetable covered trips until 6am Christmas Day.
Christmas Day: Correct. Overnight AM trips shown under Christmas Eve. Timetable covered trips until 6am Boxing Day.
Boxing Day: Correct. Overnight AM trips shown under Christmas Day.
Christmas Day Holiday: Correct
Boxing Day Holiday: Correct
New Year's Eve (Friday): Correct
New Year's Day:

Missing 12am – 6am Night Network trips

Sunday 2 Jan: Correct
New Year's Day Holiday: Correct
Route 357 Thomastown – Wollert (Dysons)
Christmas Eve (Friday): Correct
Christmas Day:

Missing 9pm – 12am Night Network trips

Boxing Day: Correct
Christmas Day Holiday: Correct
Boxing Day Holiday: Correct
New Year's Eve (Friday): Correct
New Year's Day:

Missing 12am – 6am & 9pm – 12am Night Network trips

Sunday 2 Jan: Correct
New Year's Day Holiday: Correct
Route 386 Bundoora – Mernda (Dysons)
Christmas Eve (Friday): Correct
Christmas Day:

Missing 9pm – 12am Night Network trips

Boxing Day: Correct
Christmas Day Holiday: Correct
Boxing Day Holiday: Correct
New Year's Eve (Friday): Correct
New Year's Day:

Missing 12am – 6am & 9pm – 12am Night Network trips

Sunday 2 Jan: Correct
New Year's Day Holiday: Correct
Route 406 Footscray – Keilor East (CDC)
Christmas Eve (Friday): Correct
Christmas Day:

Missing 9pm – 12am Night Network trips

Boxing Day: Correct
Christmas Day Holiday: Correct
Boxing Day Holiday: Correct
New Year's Eve (Friday): Correct
New Year's Day:

Missing 12am – 6am & 9pm – 12am Night Network trips

Sunday 2 Jan: Correct
New Year's Day Holiday: Correct
Route 410 Footscray – Sunshine (CDC & Transit Systems)
Christmas Eve (Friday): Correct
Christmas Day:

Missing 9pm – 12am Night Network trips

Boxing Day: Correct
Christmas Day Holiday: Correct
Boxing Day Holiday: Correct
New Year's Eve (Friday): Correct
New Year's Day: Correct
Sunday 2 Jan: Correct
New Year's Day Holiday: Correct
Route 420 Sunshine – Watergardens (CDC & Transit Systems)
Christmas Eve (Friday): Correct
Christmas Day:

Missing 12am – 6am & 9pm – 12am Night Network trips

Boxing Day:

Missing 12am – 6am Night Network trips (both directions)

Christmas Day Holiday: Incorrectly showing 21:40 Brimbank Central – Watergardens shortworking (although footnoted)
Boxing Day Holiday: Incorrectly showing 21:40 Brimbank Central – Watergardens shortworking (although footnoted)
New Year's Eve (Friday): Correct
New Year's Day:

Missing 12am – 6am & 9pm – 12am Night Network trips

Sunday 2 Jan: Correct
New Year's Day Holiday: Incorrectly showing 21:40 Brimbank Central – Watergardens shortworkings (although footnoted)
Route 630 Monash Uni – Elwood (CDC)
Christmas Eve (Friday): Correct
Christmas Day:

Missing 9pm – 12am Night Network trips

Boxing Day: Correct
Christmas Day Holiday: Incorrectly showing 12am – 6am & 9pm – 12pm Night Network trips (although footnoted)
Boxing Day Holiday: Incorrectly showing 12am – 6am & 9pm – 12pm Night Network trips (although footnoted)
New Year's Eve (Friday): Correct
New Year's Day: Correct
Sunday 2 Jan: Correct
New Year's Day Holiday: Incorrectly showing 12am – 6am & 9pm – 12pm Night Network trips (although footnoted)
Route 670 Ringwood – Lilydale (Ventura)
Christmas Eve (Friday): Correct
Christmas Day: No public holiday data
Boxing Day: No public holiday data
Christmas Day Holiday: No public holiday data
Boxing Day Holiday: No public holiday data
New Year's Eve (Friday): Correct
New Year's Day: No public holiday data
Sunday 2 Jan: Correct
New Year's Day Holiday: No public holiday data
Route 693 Oakleigh – Belgrave (Ventura)
Christmas Eve (Friday): Correct
Christmas Day:

Missing 12am – 6am & 9pm – 12am Night Network trips

Boxing Day:

Missing 12am – 6am Night Network trips

Christmas Day Holiday: Correct
Boxing Day Holiday: Correct
New Year's Eve (Friday): Correct
New Year's Day:

Missing 12am – 6am & 9pm – 12am Night Network trips

Sunday 2 Jan: Correct
New Year's Day Holiday: Correct
Route 703 Blackburn – Middle Brighton (Ventura)
Christmas Eve (Friday): Correct
Christmas Day:

Missing 12am – 6am & 9pm – 12am Night Network trips

Boxing Day:

Missing 12am – 6am Night Network trips

Christmas Day Holiday: Correct
Boxing Day Holiday: Correct
New Year's Eve (Friday): Correct
New Year's Day:

Missing 12am – 6am & 9pm – 12am Night Network trips

Sunday 2 Jan: Correct
New Year's Day Holiday: Correct
Route 788 Frankston – Portsea (Ventura)
Christmas Eve (Friday): Correct
Christmas Day: Missing 9pm – 12am Night Network trips. Not showing Summer Weekend Ti

metable

Boxing Day: Not showing Summer Weekend Timetable
Christmas Day Holiday: Incorrectly showing 12am – 6am & 9pm – 12pm Night Network trips (although footnoted). Not showing Summer Weekend Timetable
Boxing Day Holiday: Incorrectly showing 12am – 6am & 9pm – 12pm Night Network trips (although footnoted). Not showing Summer Weekend Timetable
New Year's Eve (Friday): Correct
New Year's Day: Not showing Summer Weekend Timetable
Sunday 2 Jan: Not showing Summer Weekend Timetable
New Year's Day Holiday: Incorrectly showing 12am – 6am & 9pm – 12pm Night Network trips (although footnoted). Not showing Summer Weekend Timetable
Route 833 Frankston – Carrum (Ventura)
Christmas Eve (Friday): Correct
Christmas Day:

Missing 12am – 6am & 9pm – 12am Night Network trips

Boxing Day:

Missing 12am – 6am Night Network trips

Christmas Day Holiday: Correct
Boxing Day Holiday: Correct
New Year's Eve (Friday): Correct
New Year's Day:

Missing 12am – 6am & 9pm – 12am Night Network trips

Sunday 2 Jan: Correct
New Year's Day Holiday: Correct
Route 900 Caulfield – Rowville (Ventura & CDC)
Christmas Eve (Friday): Correct
Christmas Day:

Missing 12am – 6am & 9pm – 12am Night Network trips

Boxing Day:

Missing 12am – 6am Night Network trips

Christmas Day Holiday: Correct
Boxing Day Holiday: Correct
New Year's Eve (Friday): Correct
New Year's Day:

Missing 12am – 6am Network trips

Sunday 2 Jan: Correct
New Year's Day Holiday: Correct
Route 901 Melbourne Airport – Frankston (Transdev)
Christmas Eve (Friday): Correct
Christmas Day: Overnight AM trips shown under Christmas Eve. Timetable covered trips until 6am Boxing Day.
Boxing Day: Overnight AM trips shown under Christmas Day
Christmas Day Holiday: Correct
Boxing Day Holiday: Correct
New Year's Eve (Friday): Correct
New Year's Day:

Missing 12am – 6am Network trips other than 05:40 Ringwood – Knox City shortworking

Sunday 2 Jan: Correct
New Year's Day Holiday: Incorrectly showing 05:40 Ringwood – Knox City shortworking (although footnoted)
Route 905 City – The Pines (Transdev)
Christmas Eve (Friday): Correct
Christmas Day: Overnight AM trips shown under Christmas Eve. Timetable covered trips until 6am Boxing Day.
Boxing Day: Overnight AM trips shown under Christmas Day
Christmas Day Holiday: Correct
Boxing Day Holiday: Correct
New Year's Eve (Friday): Correct
New Year's Day:

Missing 12am – 6am Network trips

Sunday 2 Jan: Correct
New Year's Day Holiday: Correct
Route 907 City – Mitcham (Transdev)
Christmas Eve (Friday): Correct
Christmas Day: Overnight AM trips shown under Christmas Eve. Timetable covered trips until 6am Boxing Day.
Boxing Day: Overnight AM trips shown under Christmas Day
Christmas Day Holiday: Correct
Boxing Day Holiday: Correct
New Year's Eve (Friday): Correct
New Year's Day:

Missing 12am – 6am Network trips

Sunday 2 Jan: Correct
New Year's Day Holiday: Correct
Route 908 City – The Pines (Transdev)
Christmas Eve (Friday): Correct
Christmas Day: Overnight AM trips shown under Christmas Eve. Timetable covered trips until 6am Boxing Day.
Boxing Day: Overnight AM trips shown under Christmas Day
Christmas Day Holiday: Correct
Boxing Day Holiday: Correct
New Year's Eve (Friday): Correct
New Year's Day:

Missing 12am – 6am Network trips

Sunday 2 Jan: Correct
New Year's Day Holiday: Correct